Montse Blay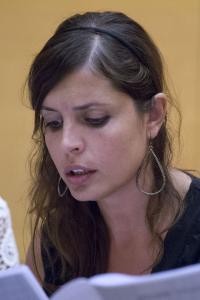 She began her musical training at the Escola de Dansa i Música in Montbrió del Camp and later completed her university degree in Musical Theory, Piano, and Chamber Music at the Conservatori Superior de Música del Liceu de Barcelona.
She has taken master classes in piano, with Àngel Colom and Edith Fischer; in musical analysis, with José M. Gutiérrez, Antoni Besses and Carles Guinovart; in 20th century music, with Benet Casablancas; in pedagogy, with Javier Conde; in vocal performance, with M. Teresa Garrigosa; and in choir conducting, with Elisenda Carrasco.
As a pianist, she has recorded music by Josep Piqué (a musician and architect from Montbrió del Camp) in a CD called "Música contada."
She currently teaches Piano and Musical Theory at the Escola Municipal de Música de Constantí.