Eugènia Valderrama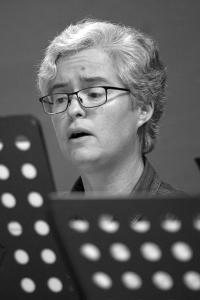 he began her musical education at the Conservatori de Música de Grau Professional of Tarragona, studying piano and, later on, saxophone. She completed her Professional Piano Degree at this conservatory and her Musical Theory Degree at the Conservatori Superior de Música del Bruc de Barcelona.
Meanwhile, she completed her University Degree in Psychology at the Universitat Rovira i Virgili (2nd Class of 1990-95)
She holds a diploma in Willems Music Teaching and has also received the Edwin Gordon Early Childhood Music Education Certificate.
She was a member of the Banda Unió Musical of Tarragona from 1992 to 1998.
Regarding the sphere of choir music, she has been part of various choir ensembles and is a member of the Ciutat de Tarragona Choir since 2004. She joined the Scherzo Female Chamber Choir in October, 2016.
Since the schoolyear 1998/1999 she teaches Musical Theory, Harmony and Analysis, and Choir Singing at the Escola I Conservatori de Música of Reus.