Albert Guinovart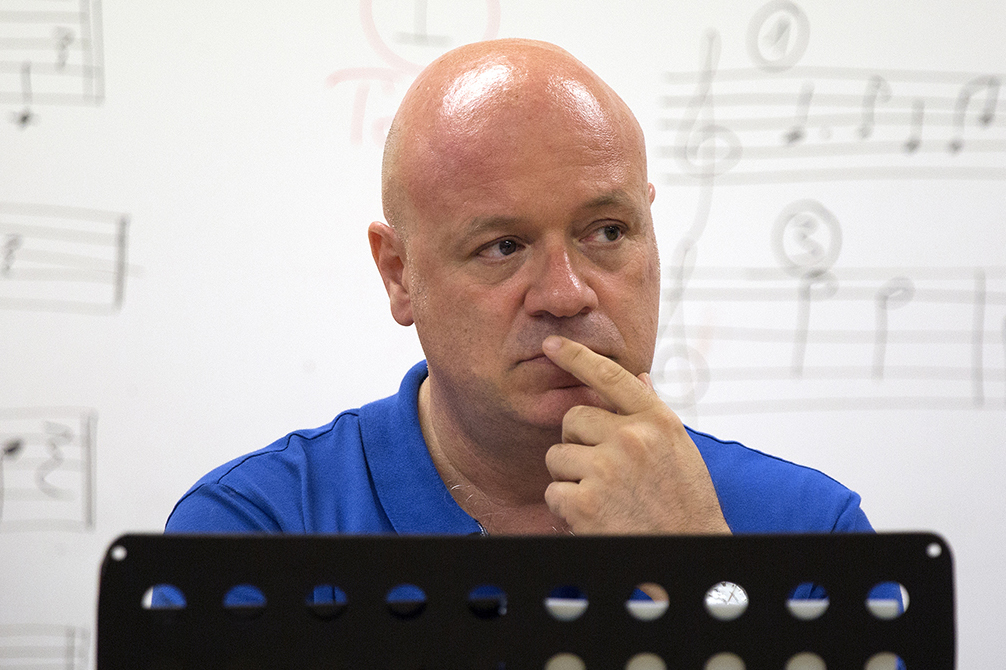 Albert Guinovart is one of the most active, successful, and versatile of musicians of his generation from Spain. Born in Barcelona in 1962, he began his piano studies at the Conservatori Superior Municipal de Barcelona, which culminated in London with Maria Curcio, for whom he was an assistant. At the same time, he experienced, from the very beginning, a need to create his own compositions.
As a pianist, Guinovart has performed throughout the world: Europe, South and North America, as well as Japan, Australia, and New Zealand. He has collaborated with a list of acclaimed singers that includes the late Victòria dels Àngels, María Bayo, Barbara Hendricks, Julia Migenes, Emilio Aragón, Juan Diego Flórez, and Nacho Duato, and has performed under the direction of famed conductors: Christopher Hogwood, Franz Paul Decker, Lawrence Foster, James Loughram, A. García Navarro, Edmon Colomer, Josep Pons, Salvador Mas Conde, and Enrique Diemecke, among others.
He has been invited to play with orchestras such as the Gürzenich Orchester-KölnerPhilarmoniker, the Sydney Festival Orchestra, the Madrid Symphony, the Barcelona Symphony and National Orchestra of Catalonia, the National Orchestra of Montpellier, the National Orchestra of Toulouse, the Helsinki Philharmonic Orchestra, and the Franz Liszt Orchestra of Budapest, among others.
In his recitals, he combines his own works with pieces drawn from the universal classical repertoire, especially the Romantic period, as well as the music of Catalonia and Spain. There are many recordings of his work, as well as award winning CDs of his interpretations of Albéniz, Turina, Granados, Guinovart (Harmonia Mundi); Rodrigo (EMI), and Symphonic Tangos (DECCA). His latest CD of his own work was just released on Sony Classical in 2014.
As a composer, Guinovart has cultivated many different styles. His first major work was the musical MAR I CEL ("SEE AND SKY," 1988 and 2004), produced by the theatre group Dagoll Dagom, which was awarded the Max Prize (Spain's equivalent of a "Tony" Award) for best musical. For its premiere in Germany, at the Opernhaus Halle, he orchestrated a symphonic version of the musical. He has composed other award-winning musicals such as FLOR DE NIT (1992) with a libretto by the late Catalan novelist Manuel Vázquez Montalbán, as well as GAUDÍ, THE MUSICAL OF BARCELONA (2003) and PARADÍS (2005), both with librettos by Catalan playwright Jordi Galceran.
Most recently, Guinovart was orchestrator for the film THE ARTIST, which won ten Academy Awards, including the "Oscar" for best musical score in 2012. The film also won the Golden Globe that same year for best musical score. During the spring 2013, he was awarded the Max Prize for best musical score for LA VAMPIRA DEL RAVAL (THE VAMPIRE OF THE RAVAL), a musical theatre piece situated in Barcelona during the early part of the twentieth century.
Aside from his work in film and theatre, Albert Guinovart has always composed for the concert hall, with symphonic works featured abundantly in his repertoire (among them concertos for piano, flute, clarinet, French horn, percussion…); several cantatas; the operas ATZAR and ALBA ETERNA and the ballet TERRA BAIXA, as well as numerous sonatas for different instruments, chamber music, and songs. His music has been directed by prominent conductors that include Gian Andrea Noseda, Lawrence Foster, Vassily Petrenko, and Philippe Entremont.
Guinovart has composed a diverse range of soundtracks for cinema and television and has also provided music for six theatre productions directed by Sergi Belbel (the most successful Spanish/Catalan playwright of his generation). He was commissioned to compose the official music for the World Championship of Swimming in 2003 and 2013.
Since 2002, Guinovart has been Professor of Orchestration and Composition at the Escola Superior de Música de Catalunya, the Barcelona Conservatory of music; and he is academician since 2014 of the Reial Acadèmia de Belles Arts i de Sant Jordi. He has been also awarded with the Premi Ciutat de Barcelona de Música 2014.