Alan Branch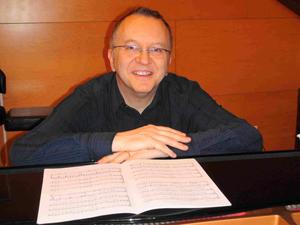 The British pianist Alan Branch was trained at the Royal College of Music and at the Guildhall School in London with professors Yu Chun Yee, Joan Havill, Geoffrey Parsons, and Graham Johnson.
He has also studied with Paul Schilhawsky at the Mozarteum of Salzburg, on a scholarship from the Austrian government. He accompanied the BBC for the first time in 1978, and from 1985, he has worked in chamber music and vocal repertoire.
He has shared the stage with prestigious singers like Victoria de los Ángeles, Teresa Berganza, Benjamin Luxon, and Enriqueta Tarrés, and with instrumentalists like Roël Dieltens, Peter Thiemann, Cristian Florea, with whom he recorded a Schubert and Eckart CD; Magdalena Martínez, Claudi Arimany, and Ricardo Casero, with whom he recorded two CDs. He has performed around Catalonia, the national territory of Spain, France, Italy, Norway, Great Britain, Austria, etc.
He teaches at the Escola Superior de Música de Catalunya in Barcelona. In the past, he has been a professor at Musikene (San Sebastián) and at the Vila-seca Conservatory. He is a licentiate by the University of Durham (England) in Romance Studies and holds close relations with the non-profit foundation La Caixa, where he teaches diction for singers.
He collaborated regularly with the Gran Teatre del Liceu in concerts in the Foyer, and also as musical assistant to the conductors Bertrand de Billy, Josep Pons, Edmon Colomer, Harry Bickett, and Sebastian Weigle.
He has conducted operas by Xavier Montsalvatge (Babel 46), Cole Porter (Kiss me Kate), and El Superbarber de Sevilla, a production for younger audiences by the Gran Teatre del Liceu.
He has been invited by the Scherzo Choir on various occasions.