Mercè Lara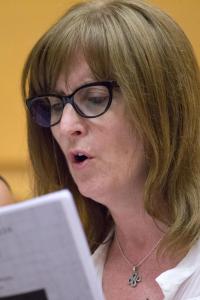 She began her studies in music as the Escola Municipal de Música in Vila-seca, where she was born, and was taught by Àngel Recasens. From 1975 to 1980, she took part as a soprano soloist in the "Quartet de Madrigalistes" from Cambrils's main tours throughout Germany, Belgium, France and other European countries.
She has been the conductor of the "Felip Pedrell" choir and deputy conductor of the "Sant Esteve" choir, both from the Conservatori Professional de Música in Vila-seca. At this same school, having completed her studies in Piano Pedagogy with an Honors qualification, she became head teacher, apart from also teaching Piano, Musical Theory, and Choir Singing up until 1987.
She completed her piano studies alongside professors Miguel Rachmanis, Liliane Questel, José M. Pinzolas and Cecilio Tieles.
As master Àngel Recasens's Pedagogy and Musical Theory assistant, she has participated in various seminars and courses on music at the University of Chihuahua (Mexico), the Paris Conservatory, the Avilés Conservatory (Astúrias), the Liceu Conservatory (Barcelona), the Conservatory in Girona, Lleida, Martorell, Tàrrega, the International Music Competition in Vila-seca…
She has been conductor of the "Verge del Camí" Choir (Cambrils) as well as of the "Johannes Brahms" Female Choir of the Escola Municipal de Música of Cambrils. She has received various national and international awards, such as manager of the International Music Festival of Cambrils. She has performed as mezzo-soprano with the prestigious ancient music ensemble "La Gran Chappelle," from its founding up until 1996.
She has teached Piano, Musical Theory and Choir Singing at the Escola Municipal de Música in Cambrils since 1988. She currently balances Piano and Musical Theory lessons with her position as head teacher.
She is a member of the Scherzo Female Chamber Choir.